population 203 965
civil rights since 1233
Toruń – one of the oldest and the "greenest" cities in Poland is located in the centre of Kujawsko-Pomorskie state. This is the destination of the trips of tourists from all over the country, who want to see the place where Copernicus stopped the sun and moved the Earth, and the 200-year presence of the Order of Brothers of the German House of Saint Mary in Jerusalem (also known as the Teutonic Order) has left its mark in the appearance of the urban space..
There is the old market in the very heart of Toruń. Its cultural significance is proved by the presence on the UNESCO World Heritage List. Tourists and citizens have got an opportunity to see one of the biggest Polish collection of gothic art and architecture on their own.
However, the famous Toruń gingerbread is the most popular attraction among tourists. The tradition of their baking is as long as the history of the city – it's almost 700 years old! Due to its reputation, many of them have tried to know their recipe. Nonetheless, if you want to taste real gingerbread, you should visit Toruń...
The decision about buying Flower Towers was made with the Mayor of Torun, and the aim was to vary the urban landscape.
Problem

No attractive entrance

No access to the ground

Greyness around the monument
Empty space
Despite the fact that 30% of the Toruń is covered with greenery, nature in the urban space isn't as much popular. There are some parks around the old market but the centre was lacking in flowers. The Copernicus Monument that is the one of tourist attractions hasn't got any decorations that would distinguish it among buildings.
Similarly, the surroundings of the Marshal Office and the monument of Władysław Raczkiewicz, the third Marshal of the Senate of the Second Republic of Poland and the first President of the Polish government in exile. The huge area in front of the Office appeared to be empty. It was necessary to end the domination of this monotony.
Solution
Toruń has literally flourished after providing Flower Towers. The municipal authorities have decided for four models, including the one designed for street lamps. This one and the H2400 model have appeared near the Copernicus Monument.
H1200 and H2000 models have decorated the public space in front of the Marshal Office. White and red flowers have accentuated the patriotic character of this place and the monument of Raczkiewicz. In this way both areas have got a new appearance.
Results
Torun prefers the promotion thanks to the nature – since years we've been encouraging the citizens to sharing the decisions about the natural side of our city. Through the presence of Flower Towers in the town square, we manage to continue this trend also in the historic part of Torun, where there is no place of traditional planting.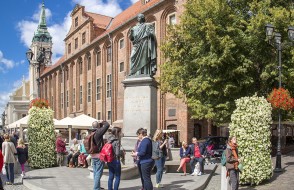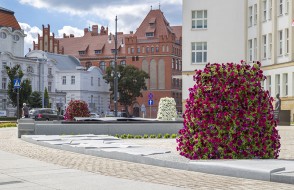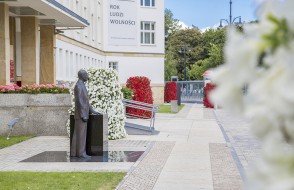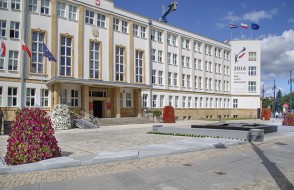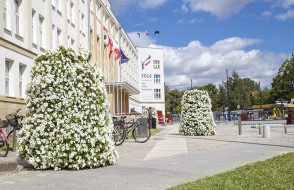 Google Street View
See Toruń in flowers