population 42 000
civil rights since 1765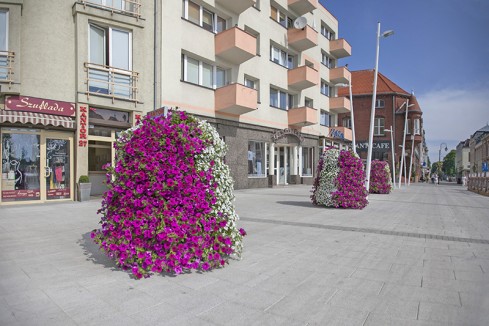 The only Polish town that is located on 44 islands and to which about 2,5 mln of tourists come every year – Swinoujscie. This small but beautiful coastal town is one of the most popular polish resorts. Its unique localisation makes it being called "polish Amsterdam".
How does the city centre look? Historic tenement houses are surrounded with green territories. The important point of strolling is the fountain with the light illumination show on the promenade. The pride of the town is the highest lighthouse on the Baltic coast. The length of 66 m makes it also one of the highest such buildings in the world.
Due to its popularity, the municipal authorities of Swinoujscie cannot allowed themselves for an average looks. The urban space that is visited by thousands of tourists every day, attracts with its colourfulness and naturalness thanks to the greenery.
During planning new investments, we always consider the role of nature in the final stage. We've decided for flowerpots and Flower Towers to decorate our renovated Wolności Square because we care about the greenery. Its presence makes this place more friendly.
Problem
Empty space

The proximity to the street

A colourless avenue

An ordinary town square
Like the most of cities, Swinoujscie has got problems with flowers in its urban space. Pavements were limited by the buildings and young trees. This place was lacking in nature.
Wolnosci Square after the renovation needed some finishing that would enliven it. The modern place didn't have this atmosphere. The street next to it didn't add a friendly character.
Solution
The monotony of pastel colours has been broken thanks to colourful flowers in Flower Towers. They have created a natural protective barrier for pedestrians all along the square and the avenue. The constructions W600 have decorated street lamps with the same flowers as the standing ones.
White flower pots have also appeared on Wolnosci Square.
Google Street View
See Świnoujście in flowers